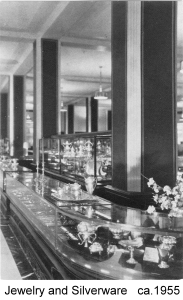 As a 13 year old boy, going downtown by yourself, on public transportation (the 155 Devon bus and the Howard-Englewood 'L' - now known as the red line.) was not so out of the ordinary. After all, I just had my Bar Mitzvah on my 13th Birthday and was now considered a man (really?). Anyway, times were different in the early 1970's. I usually had a mission when going downtown. This time it was to buy a new alarm clock for my folks.
I would come out of the subway and go straight to the Marshall Field State Street store. It didn't matter what time of the year it was, I always walked around the building looking at the windows. It didn't matter if you were interested in the clothing, appliances, or home décor displayed, everything looked magical in those big windows. Of course the Marshall Field State Street store Christmas windows were legendary!
Once in the Marshall Field store, I would head directly to the toy department. Wow, what a wide selection of stuff. Stuffed animals (now know as plush toys), trains, model kits, the choice was endless. I made my way over the collectables counter where the stamps and coins were. I usually purchased a stamp from the 1940's or 50's since they were mostly under a dollar.
At the small appliances department, I would pick out 3 different alarm clocks and purchase all of them. The clerk would ask for the total amount. I told the clerk it was on credit and that I had the charge plate number but not the card. I explained to him that these were for my parents. They would pick the one they liked and then I would return the other two. I gave the clerk the account number from my memory, 45 – 143 – 148. Nice… I can still recall the account number from 40 years ago, but I already forgot what I ate for breakfast this morning.
The clerk would call the accounting office upstairs and they would verify the name, address and phone number on the account. No problem. Since my mom was hooked on chocolate, I usually stopped on the 7th floor to buy my Mom some. Charge it!
Oh. It's lunch time and I'm hungry. The Walnut Room Restaurant served great food. By 11 o'clock the restaurant was already full and a line of people has started. There were two lines roped off. One line for parties of 1 or 2, and the second line for parties of 3 or more. Well, can you guess which was the longer line? Hey… I'm by myself. It's only a 30 minute wait. There were only a few people in the 3 or more line. The couple behind me, perhaps in their 30's, ask me if I would like to join them for lunch, that way we could get a table in a few minutes because the line was so short for 3 or more people. Like I said before, time were different back then. I did get a separate check because I was going to charge it, tip and all. Thanks for lunch Mom and Dad.
I did a lot of shopping at Marshall Field's for my parents in my teen years. I miss Marshall Field's. Why couldn't Macy's call the Chicago area Macy's stores: Macy's Field or something to that effect.